About Look

&

Listen
Look & Listen pairs the photography from artists showing at Pictura Gallery with local music from Bloomington, IN. The intent is to create a calming gallery tour that can be experienced virtually. The series was born out of necessity, as the nation is ​"sheltered in place". We plan to continue this offering not only to highlight interesting pairings of art and music but share the gallery exhibits with a broader audience.
This second iteration of L&L pairs ​"All Other Ground is Sinking Sand" by Bloomington composer Craig Michael Davis with the subject for which it was composed, the vivid desert-scape ​"Page, Arizona, 2013", by Joshua Dudley Greer.
A bit from the composer about his inspiration for the piece: ​"We also see man-made buildings that seem to naturally blend with the dry desert spaces surrounding them, as if to softly suggest harmony between nature and humankind.
Many questions remain unanswered, but this feeling of calm mystery was what I tried to capture in this new piece, ​"All Other Ground is Sinking Sand," inspired by Joshua's work. Some parallels you'll find between the visual and aural art is the presence of a clear foreground, middle-ground and background, curved lines against straight lines, and natural material versus unnatural (or manmade)."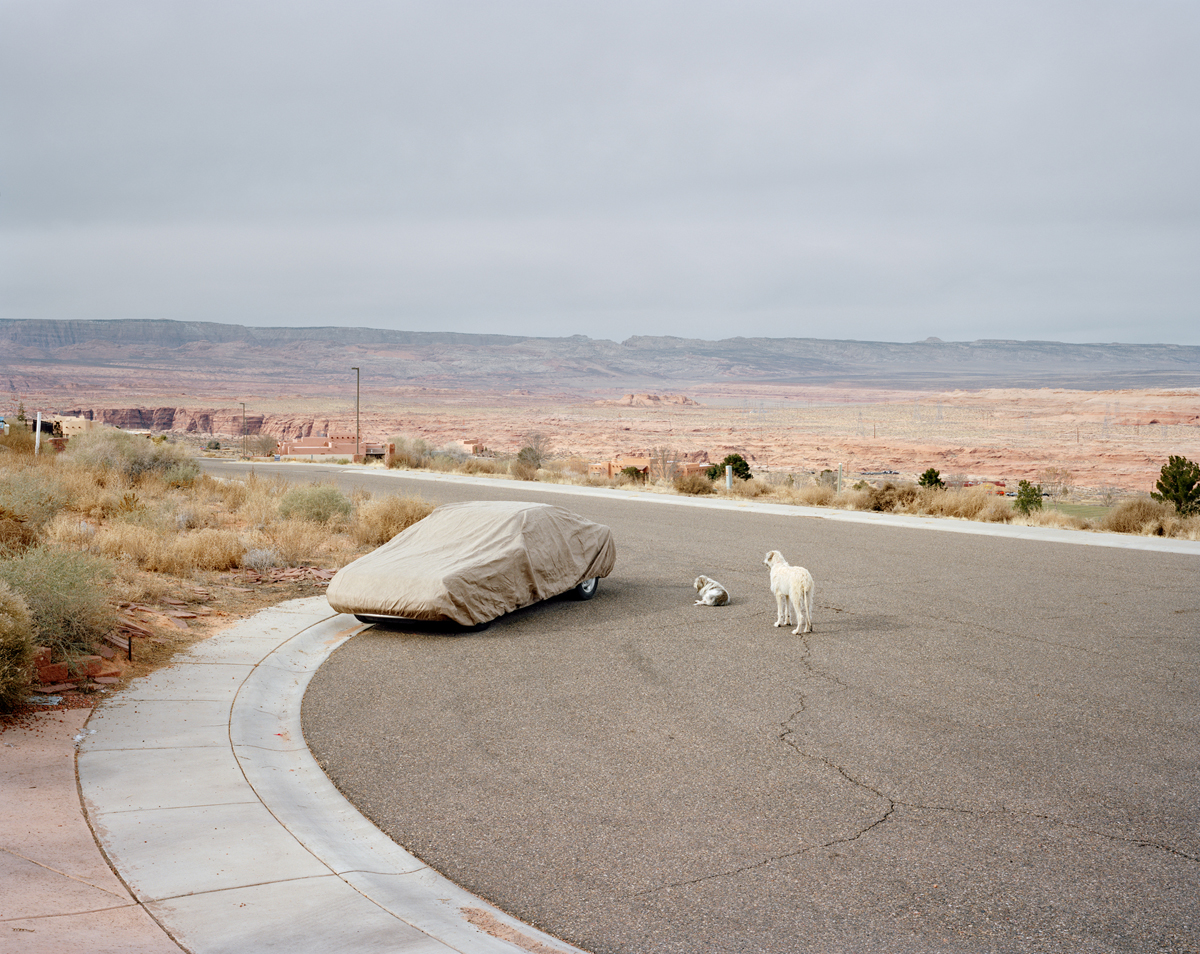 More on the Artists
Joshua Dudley Greer (b. 1980 Hazleton, PA) is a photographer based in Atlanta, GA where he teaches at Georgia State University. His work has appeared in The California Sunday Magazine, The Atlantic, PDN, Le Monde, The Georgia Review, GUP Magazine and Oxford American. He has received grants from the Maryland State Arts Council, Tennessee Arts Commission and the Aaron Siskind Foundation. His work can be found in the permanent collections of the Harvard Art Museums, the Museum of Contemporary Photography, the Ogden Museum of Southern Art, the New York Public Library, the Do Good Fund and the High Museum of Art.
Joshua Dudley Greer's series, Somewhere Along the Line is a six-year photography project that traces America's highways, looking for unforeseen moments of humor, pathos and humanity. You can learn more about this project by visiting Pictura Gallery's exhibit page.
See more of Joshua's work at jdudleygreer​.com
Craig Michael Davis is an internationally known composer, conductor, and pianist from California. He travels the world performing a solo keyboard show and with The Craig Michael Davis Ensemble, which he founded in 2015. Living in New York City in his 20s, he received a Master's Degree in Theory and Composition from the New York University. Moving to Bloomington, Indiana, in 2016, he received a Doctorate in Music Composition, from Indiana University's Jacobs School of Music. Currently, Craig is on faculty at the Jacobs School of Music, teaching music.
Craig studied predominately with Michael Gordon, Julia Wolfe, Jon Gibson, Lloyd Rodgers, Don Freund, Claude Baker and Aaron Travers. Craig has had works premiered by the L'viv Philharmonic Orchestra, the NYU Philharmonic Orchestra, the JACK Quartet, the Cincinnati College Conservatory of Music Wind Ensemble, the Jacobs School of Music Wind Ensemble and the Indiana University Choir. Craig writes for film, theatre, and live performance. His theatre piece, ​"Letters to a Terrorist," just placed in the finals of the ASCAP Young Composers Competition. ​"Letters to a Terrorist" portrays one woman's journey and life as the wife of the leader of a terrorist organization in Algeria.
As a pianist, Craig has toured The United States and Europe giving performances of his original works. Writing for multiple keyboards with electronic effects such as delays and loops, he often collaborates with painters and dancers to create new works that last anywhere from 5 minutes to 5 hours. Craig has become increasingly in demand in writing and performing music in cross collaborative-genre venues that deal with multiple mediums simultaneously.
His writing has earned a number of awards and residencies, among which include three ASCAP awards, Finalist in the 2015 Sacrarium International Composition Competition and Forum, The 2013 Alan A. Mannason Award for Composition, and The 2012 Henriquez Award for Composition. His music has been played in the United States as well as in Europe.
Craig lives with his wife: Emily, and dogs: Duke (a golden retriever) and Hamilton (a toy poodle), in Bloomington, Indiana. Craig's music is published through Jack Harrison Publishing Co., and his music is distributed through Davenport Records.
Learn more at https://​www​.craigmichaeldavis​.com/home