Image by Rania Matar
As a parent of two young kids during this pandemic, I've been bombarded with one million super cute and sometimes very impractical kid activities. They are impractical because either my expectations are too high, my kids attention spans are too low or I just know that somedays, vacuuming flower petals or wiping glue off of everything is too much for me. The pressure to have a stimulating and structured day planned while trying to work from home and can feel so overwhelming and I know that other parents are feeling this too. So, for this Pictura Kid's craft, I wanted to focus on a couple of activities that…
1. Stimulate and foster creativity for both parents and kids
2. Empower kids to create independently (keep them busy!)
3. Require little effort or clean up from exhausted parents
4. Are suitable for kids of all ages
There are two crafts / activities in this post, they are numbered below. To do these crafts, you can use you own paper or print out our templates at home. You will also need something to create with, this can be a pencil, pens, markers, crayons, paint, paper…etc.
These activities are based on Rania Matar's window portraits series, I recommend starting by watching her studio tour with your kids, which can be found here or looking through some of her work. You can also read more about her here.
1

. View from My Window

What do you see when you look through your window? Have your little one sit in front of their window or even outside looking in if it is a nice day. You could partake in the activity with them by simply being on the other side of the window. This can also be a fun activity that siblings can do on either side of the glass.
Some Tips:
Print out the page below to get them started or create a window outline for them on a blank sheet of paper.
Encourage them to sit for a long as they can and observe.
Ask them what colors they see, what shapes?
Do not feel limited to our template or conventional coloring, let your imaginations go wild.
Have older kids who are interested in photography? They can photograph their own versions of Rania's window portraits.
Send us your creations! We are showing kids work (any medium) through the end of June and will be adding works from this craft to our current exhibit. Artwork can be dropped off or mailed to

202

S. Rogers Street, Bloomington,

IN

47404

OR

emailed as a photo/​scan to info@​thefar.​org.
To Download, right click the image below and select ​

'

Save Image As' or download the

PDF

.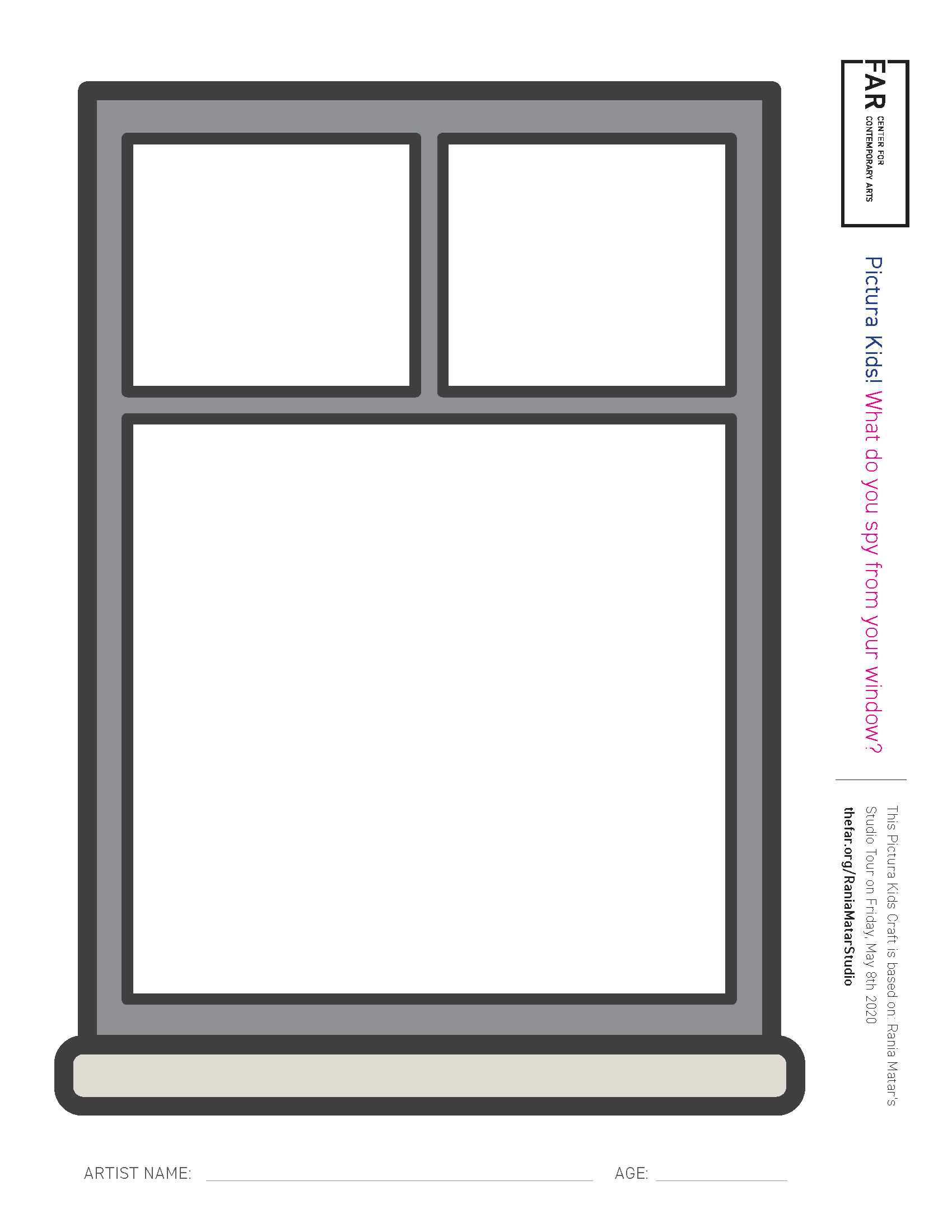 2

. Eye Spy Scavenger Hunt

Can you spy all of the items on the scavenger hunt? This is a fun activity for a cold or rainy day and one that the whole family can do together. We've included a blank version that you can fill-in for extra fun or if you have a particularly unique landscape when looking out from your window.
Some Tips:
Play the slow game and tape the page on the window so that you can add to it as the day passes.
Or set a timer and have kids race to check the most boxes before time runs out.
For us competitive types, assign points to each item based on how hard or easy it is to spot.
Adults love scavenger hunts too! Create your own version, make it into a drinking game, or try to spot your neighbors doing funny things…so many possibities.
Share your eye spy creations with us on Instagram, tag @fourthandrogers and we will repost you.
To Download, click the image and when it pops up, right click and select ​

'

Save Image As' or download the

PDF

.
PDF

Downloads: