In the face of a global pandemic and a widespread call for dismantling racist systems, Paper Pavilions commissioned artists to consider the future of our built and natural environment.
Featuring artists Gnat Bowden, Carlson Garcia, Samuel Levi Jones, Rachel Kavathe, Claire Krueger, Maddie Miller, Armando Minjarez, Joann Quiñones, & Andrea Stanislav.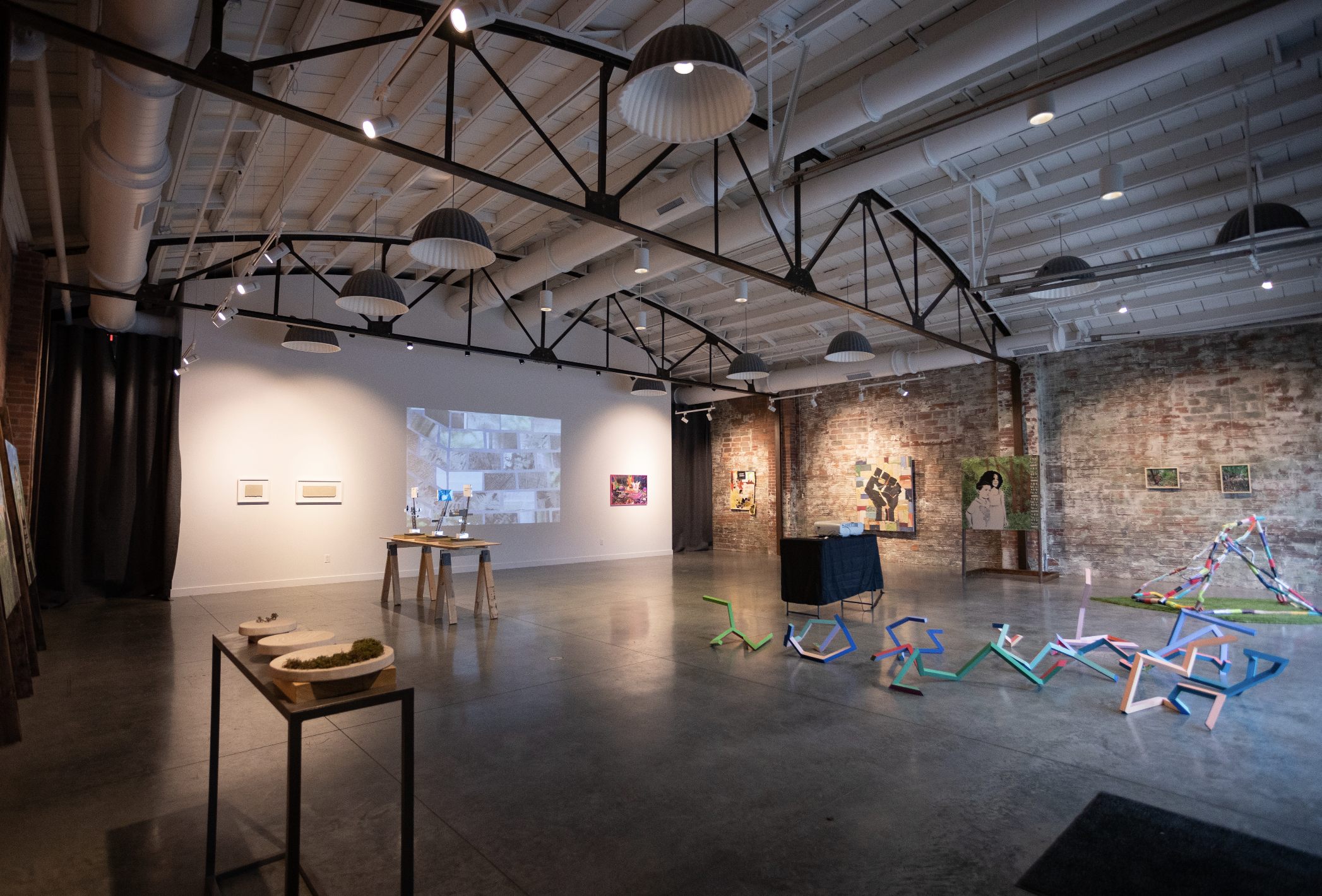 The exhibition, which used the framework of public art proposals, digital renders, scale models, and maquettes, opened at FAR Center for Contemporary Arts in Bloomington on January 15, 2021.
This exhibition connected artists and practitioners across the Midwest to celebrate a cultural exchange between Columbus and Bloomington along Arts Road 46. This curated body of work illustrated how artists can actively interpret space, sculpture, and materiality by responding to key sites of architecture and the natural environments of southern Indiana.

Curatorial Statement
In the face of a global pandemic and a fervent call for the admission and dismantling of systemically racist systems, Paper Pavilions has commissioned nine participants to consider the future of our built and natural environment. Artists are responding to critical sites of architecture and landscape in the Indiana Uplands region in order to reinterpret the concept of a modern sculpture pavilion.
The Midwest has found itself in the center of America's confrontation with its own identity. Public spaces are more important now than ever, and as we consider the future of our plazas, nature preserves, and streets, we must consider the inherent and unjust historical fabrics behind these spaces and their current sociopolitical implications. This exhibition aims to elevate critical art dialogue and showcase new artistic approaches in these communities from the temporary and conceptual to the real.
In Penelope Curtis's Patio and Pavilion: The Place of Sculpture in Modern Architecture, the pavilion places the viewer at the ​"threshold between interior and exterior." As we near six months of (at times only self-imposed) quarantining, the use of public spaces has shifted and art experiences have changed. As Curtis writes: ​"The pavilion is still a place where we observe nature, but it has also become a place where we observe ourselves." Now, the exhibition itself is tasked with interpreting how a gallery can function as a pavilion within itself, using non-traditional works and practices in sculpture, video, ceramic, and textile.
This project is made possible with generous support from the Columbus Museum of Art & Design, City of Bloomington & Bloomington Entertainment & Art District, and the Indiana Arts Commission, as well as, a unique partnership with Sycamore Land Trust.
Paper Pavilions is curated by Sean M. Starowitz.