Andy Freeberg | Guardians
June 14, 2022| book review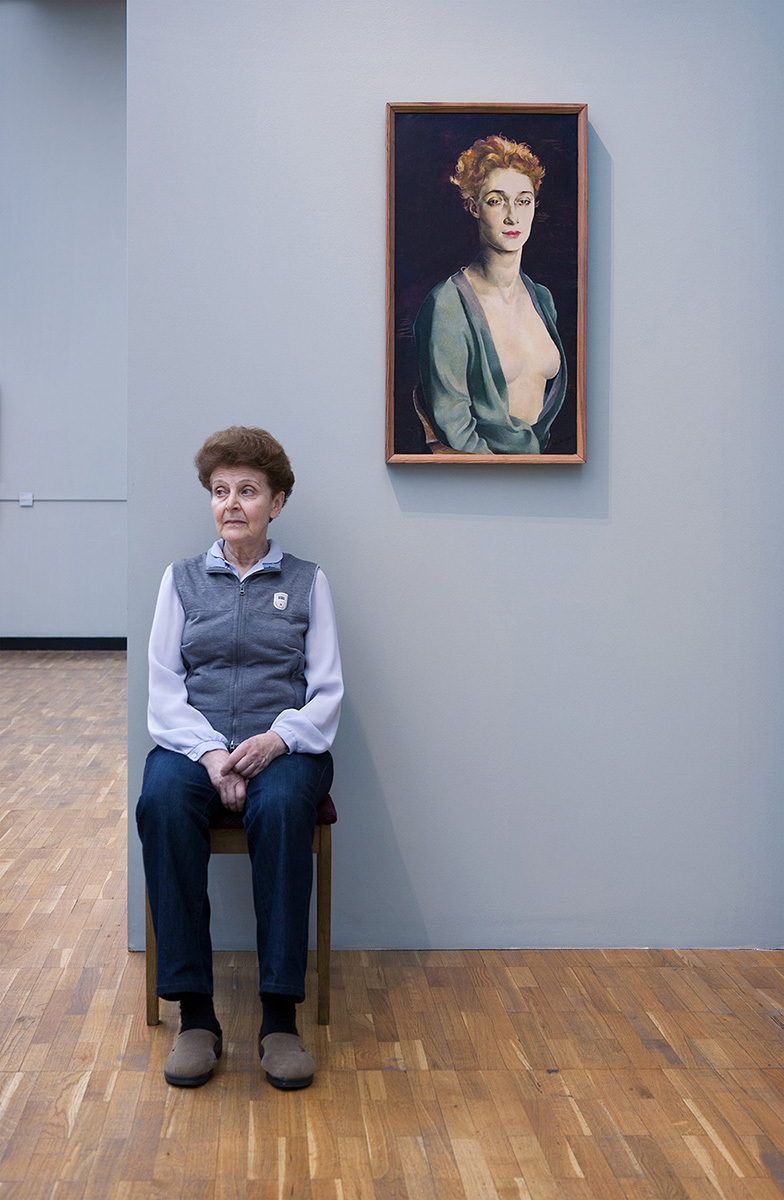 It's been rewarding to revisit Andy Freeberg's book, Guardians, this month. The book was published in 2009 with Photolucida, and it's a favorite of mine. The project documents the cast of women employed to sit in Russian art museums.

Having worked to enliven the sequencing on so many photographic projects for exhibition, I generally crave surprise and variation in a series, and too much sameness feels stale. Freeberg's book reminds me that in the right context, consistency of form is powerful. Kindred museum-projects have surfaced after Guardians, but Freeberg's parameters — only Russian museums, only the grandmothers who watch over them, only rooms photographed from a middle-distance — these choices offer something substantial in their unity. Recognition of the tradition of guardianship accumulates in the viewer with each new picture.

The consistent format brings each woman into focus, drawing attention to the steadfast purpose of the role, but also to the unique qualities of each guardian. Some guards are placidly out of sync with the drama of a painting, but mostly there's a kind of satisfying match between each guardian and her charge. Most of the women are seated upright, calm and watchful. Some are in a state of sustained communion with the art behind them. The guard who sits with Andrei Rublev's magnificent inconistatis is shown in profile, her angular stillness in harmony with the icons. Others seem to be lost in a long thought, like the portraits they protect. In one photograph, the guard leans forward, echoing the laundress in the painting behind her. But her gaze rests elsewhere, on a painting of a priest and a holy man out for a walk. Her body forms a bridge between the two works; her silence animates a conversation between the figures.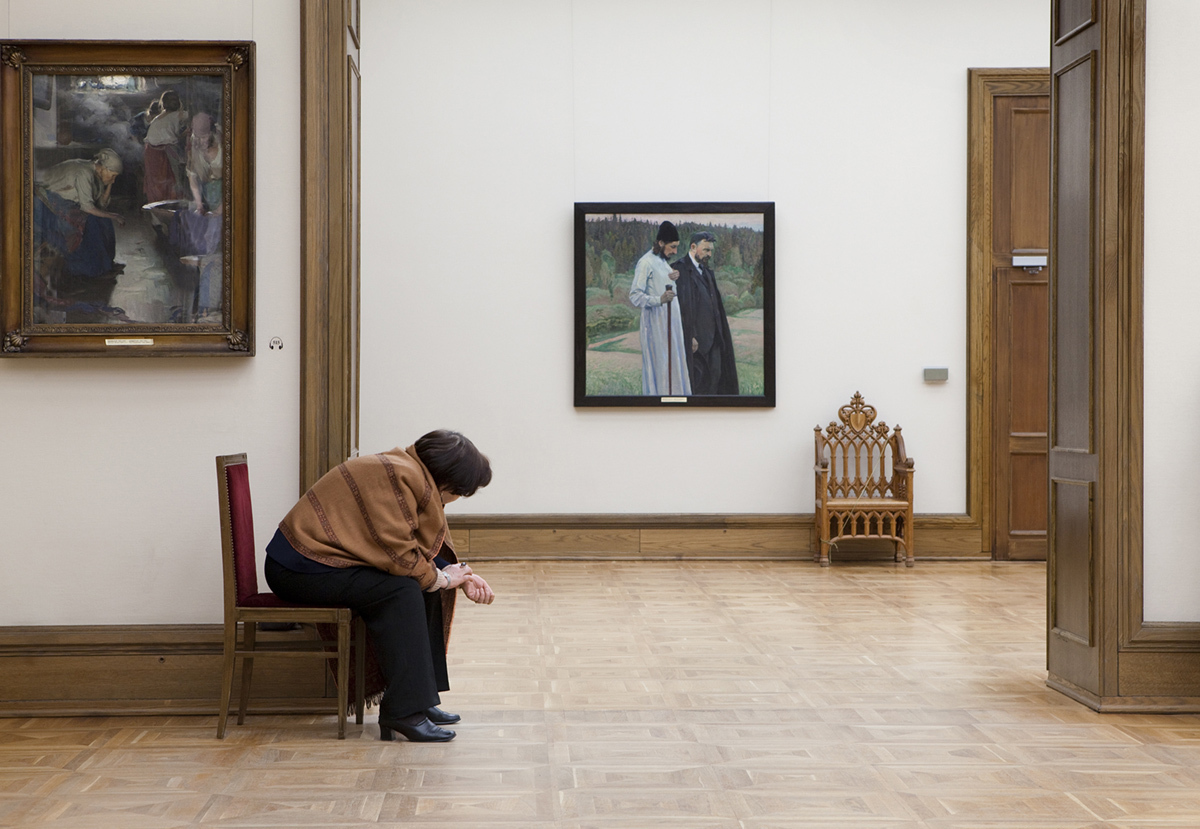 The tranquility of the guardians contrasts with the space of modern life, so saturated with entertainment. These are women who have made their peace with slowness, and I wonder (with some jealousy) what fills their minds each day at the museum. I am reminded that old things have much to teach us, and we who profess to love art would do well to sit with it for so long.
The works are currently in an exhibition in Finland. I asked Andy about this particular project at this particular moment (when Russia is aggressively at war, and Russian culture is not particularly welcome outside of Russia.) He offered this: I think people understand the difference between what's happening now, and the history of culture in Russia and what these Guardians represent. The picture of a guard with the large painting of Stalin at the Kremlin — when I asked her what she thought of the painting she was sitting beside, she said (paraphrasing through an interpreter) ​"This was a difficult time in our history and not something we are proud of, but we must remember and not forget it."

It is good to dwell for a moment on the caretakers of a culture with the same care we give to the artistic offerings of that culture. I want to be reminded now of the good and the beautiful parts of Russian life, of every Russian who does not choose war, or would not if presented with the actual military and moral realities. War encourages vilification, even when we know better. But confrontation with the individual person mitigates this tendency. It's hard to look at a glorified portrait of Stalin, knowing that nefarious power rises again, despite humanity's access to history. Freeberg's book is filled with a longer cultural history, for good and for ill, and many grandmothers I'd like to know.
-Lisa Woodward